Press Release: Deacom, Inc. Named Best Place to Work in Philadelphia Area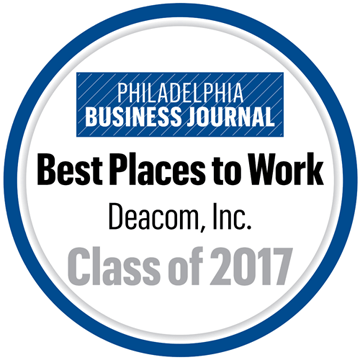 Chesterbrook, Pa, June 27, 2017: Deacom, Inc., the developer of a single-system Enterprise Resource Planning (ERP) solution, has been named as one of the best places to work in the Greater Philadelphia area, according to Philadelphia Business Journal. With a record number of applications this year, Deacom is one of 21 companies in the medium-sized business category to earn this recognition.
Philadelphia Business Journal teamed up with Quantum Workplace to discover the best workplaces in the area based on anonymous employee surveys. As a finalist, Deacom's culture was favorably ranked by employees in areas including work environment, people, personal growth, and professional development.
The enterprise software company has experienced tremendous growth in the past three years, tripling its workforce and opening a 30,000 square-foot headquarters in the King of Prussia area. Deacom's impact-driven culture and vast opportunities for career development continues to attract some of Philadelphia's top talent.
By the end of 2017, the company expects to hire an additional 25 employees in the sales, data, implementation, development, and support departments. To learn more about these positions, visit Deacom's careers page.
The full list of Best Places to Work in Greater Philadelphia can be found online today and will be published with their rankings in the August 10th issue of Philadelphia Business Journal.