DEACOM DISCOVER 2018 User Conference Details Released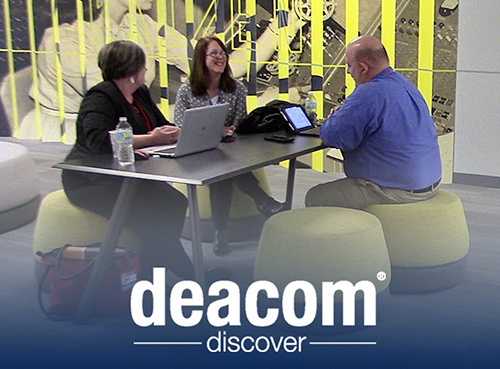 Chesterbrook, Pa, November 29, 2017: Deacom, Inc., an Enterprise Resource Planning (ERP) provider for manufacturers and distributors, announced today that its annual DEACOM DISCOVER conference will be held from April 17-19, 2018 at the Radisson Valley Forge Hotel. This event is a unique opportunity for Deacom to bring together its diverse user community for three days of strategic collaboration, hands-on workshops, and opportunities to network with industry peers and software experts.
"What I really like about this conference is getting the chance to hear how other people are using the ERP system," said JT Griffith from Nature's One. "You don't get to go to many conferences where you are able to sit down with your peers from other companies or Deacom's team to bounce ideas off each other. If you look at breakfast, lunch, and dinner, a Deacom person is at every table looking to learn and help however they can."
The conference will offer 30 sessions to shed light on best practices, advanced applications, implementation strategies, new functionality, and industry-specific challenges for those in the manufacturing and distribution industries. Customer case studies and software demonstrations will be used to spark inspiration and drive discussions.
New this year, is the DEACOM TechLab which will be open and available to all attendees throughout the conference. As specific processes are addressed in workshops, those same case studies will be available to try first-hand in DEACOM test environments. Deacom experts will be available to help facilitate successful completions of each case. This is a great opportunity to ensure a strong understanding and execution of critical business processes before the conference concludes.
Customers looking to tackle company-specific challenges with Deacom experts have the opportunity to sign up for 1:1 sessions held on Monday, April 16, 2018 at Deacom's headquarters.
DEACOM DISCOVER participants include c-level executives and personnel within accounting, warehousing, production, purchasing, sales, inventory, supply chain, and R&D areas of manufacturing and distribution businesses. Whether they are a DEACOM veteran with 10+ years of experience or just kicked off implementation, the conference's workshops and networking events are sure to spark inspiration for stronger business practices.
Register now for DEACOM DISCOVER 2018 and save with Early Bird pricing. For more information about Deacom, visit www.deacom.com or call 1-877-4-DEACOM.
About Deacom, Inc.
Deacom, Inc. is the producer of DEACOM ERP, a comprehensive ERP platform with the industry's largest functional foundation. As the artisans of ERP software, Deacom builds functionality that specifically resolves the complex challenges of manufacturers and distributors. With a focus on constantly evolving the software, critical business functionality is developed by Deacom into the core platform. This provides a unique opportunity for customers to increase operational efficiency and decrease the total costs of ERP ownership. The company's headquarters is located in Chesterbrook, Pa. To learn more, visit deacom.com, follow on Twitter or call 1-877-4-DEACOM.
Media Contact:
Kelly Peters, PR Manager
Email: press@deacom.com
Phone: 1-877-4-DEACOM