Press Release: Deacom Takes Home "Philly.com Top Workplaces" Award for the 2nd Year in a Row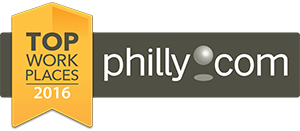 Chesterbrook, Pa, March 21, 2016: Philly.com has acknowledged Deacom, Inc. as a "Top Workplace" in the Philadelphia area consecutively for 2015 and 2016. The results were determined solely from employee feedback via a survey conducted by WorkplaceDynamics LLP, a leading research firm on organizational health and employee engagement.
Deacom is an enterprise resource planning (ERP) software provider for process manufacturers based in Chesterbrook, Pa. Deacom has become a leader in the process manufacturing ERP space by providing a unique ERP model that eliminates customization and bolt-ons that drive complexity and cost.
"Deacom's success is in large part due to our exceptional team members and we are honored to receive such an significant award," said Scott Deakins, Chief Operating Officer of Deacom. "Our culture is different from other tech companies – we call it an 'impactocracy.' Sharing a passion to achieve beyond their job descriptions, each team member strives to make an impact on the business and industry as a whole. This approach has attracted and retained some of Philadelphia's finest professionals."
The newest Deacom initiative is the implementation of the company's Leadership Development Program. In this 16-week program, employees will strengthen their communication, goal setting, and management skills in order to further develop their careers. "Deacom is growing tremendously and this program will provide the tools necessary to further develop strong leaders and encourage promotions from within the company," continued Deakins.
Growing its employee count by more than 650% since 2012, Deacom is showing no signs of slowing and is planning to add another 50 employees in 2016 alone. Currently the company is looking for Technical Specialists, Project Managers, Business Development Representatives, ERP Specialists and Software Developers to add to the team. To learn more about how to become part of the Deacom team, visit the careers section of our website.

# # #

About Deacom, Inc.
Deacom, Inc. is the producer of DEACOM ERP, a scalable, single-system ERP solution specifically designed to streamline operations for process and batch manufacturers. As the artisans of ERP software, Deacom operates upon the principle of "Complexity made Simple," developing a solution without customization or bolt-ons to increase efficiency and decrease the total costs of ERP ownership. The company's headquarters is located in Chesterbrook, Pa. To learn more, visit www.deacom.com, follow on Twitter or call 1-877-4-DEACOM.

Media Contact:
Kelly Peters, PR Manager
Email: press@deacom.com
Phone: 1-877-4-DEACOM