Press Release: Mobile Updates to DEACOM ERP Drives Modernization in Manufacturing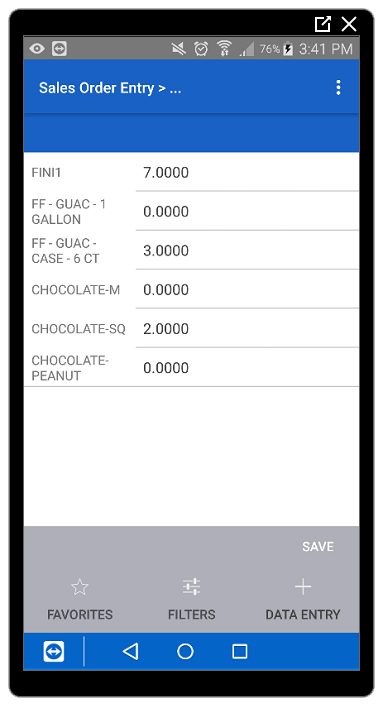 Chesterbrook, Pa, September 22, 2016: Deacom, Inc., the developer of a single-system Enterprise Resource Planning (ERP) solution, has recently rolled out significant updates to its mobile app capabilities and introduced an Android version. As manufacturers continue to seek methods to modernize operations, these mobile enhancements deliver a higher level of convenience for direct-store-delivery (DSD) and sales order entry.
Focusing on two of the most mobile-critical elements of the manufacturing business, Deacom's mobile updates cater towards distribution and sales channels.
DSD Inventory Staging – To better prepare shipments, inventory can be staged prior to moving to the truck locations creating a more structured and efficient loading process.
DSD Returns – Delivery personnel can now complete returns onsite to provide a new level of customer service.
DSD End-of-Day Reports - Upon return to the facility, drivers can generate end-of-day reports illustrating all orders and inventory delivered, how many returns were completed, which payments have been received, and what orders are waiting to be invoiced. While this route summary can be viewed within the DSD software, it can also be printed and signed by the delivery personnel.
Sales Order Entry Templates – Sales representatives can now leverage sales order templates within the mobile app to improve the speed at which orders are submitted.
"No matter the industry, mobile is continuing to drive efficiencies within business and we are seeing the adoption rate continue to grow in the process manufacturing segment," said Scott Deakins, COO of Deacom, Inc. "Spending less and less time sitting at a desk, professionals in this fast-paced industry are craving a more modern workplace with robust functionality in the palm of their hand. The improvements we have made to our mobile platform creates greater opportunities for communication and responsiveness to customer-driven deadlines and delivery dates for these users."
With the launch of the Android app, users can now experience the same level of functionality that exists within the Apple version. Both communicating with our core ERP system, this advanced front-end to critical data allows any report or dashboard to be run and drilled down into, the CRM platform to be managed, and sales orders to be submitted - all while on the move. Any changes made from the app are then instantly accessible via the main application ensuring that real-time data is always influencing business decisions.
"We take a unique approach by sharing the code running the mobile app, between the other DEACOM applications. This enables us to quickly build and iterate features creating a more modern technology footprint," continued Deakins.
DEACOM Mobile users can now install/update the newest version of the mobile app for Apple iOS and Android. For more information about Deacom, visit deacom.com or call 1-877-4-DEACOM.