Press Release: Devault Foods Plans to Drive Profit Margins with DEACOM ERP Software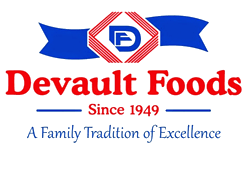 Chesterbrook, Pa, March 22, 2016: Deacom, Inc., the developer of a single-system Enterprise Resource Planning (ERP) solution, has been selected by Devault Foods, a national supplier of portion-controlled meat products, to improve efficiencies within the company's pricing strategy. Eliminating bolt-ons and customizations from the ERP environment, DEACOM ERP is able to deliver an inherently simpler platform, synchronizing all areas of Devault's business within a single location.
"In our industry it is essential that we monitor notorious fluctuating prices on raw material," said Brett Black, Chief Operating Officer of Devault Foods. "Currently, we are managing various, independent systems which often causes discrepancies between reports. For our company, minimal margins of even a penny can make a significant impact on our business's bottom line and a reliable ERP system like DEACOM will allow us to create more accurate pricing plans and forecasting."
Deacom's single-system ERP software model eliminates the need for Devault's team to manage a broken system, deploy workarounds, and manually input data to produce critical reports. Be it accounting, WMS, CRM, lot tracking, or mobile access, all capabilities are available within one system, and without the need for costly customizations. For Devault particularly, this real-time visibility will enable the manufacturer to better match their gross margin to the profit and loss statement.
"Deacom will allow us to remove a lot of the "busy work" that was slowing our growth. Their unique, single-system software model puts them far ahead of other ERP providers and allows process manufacturers to dive deep into their data to conduct accurate forecasting. Now that Devault has selected DEACOM, the volatile cost component of our industry is able to be better managed for the long term," continued Black.
For more information about Deacom, visit www.deacom.com or call 1-877-4-DEACOM.

# # #

About Deacom, Inc.
Deacom, Inc. is the producer of DEACOM ERP, a scalable, single-system ERP solution specifically designed to streamline operations for process and batch manufacturers. As the artisans of ERP software, Deacom operates upon the principle of "Complexity made Simple," developing a solution without customization or bolt-ons to increase efficiency and decrease the total costs of ERP ownership. The company's headquarters is located in Chesterbrook, Pa. To learn more, visit deacom.com, follow on Twitter or call 1-877-4-DEACOM.

Media Contact:
Kelly Peters, PR Manager
Email: press@deacom.com
Phone: 1-877-4-DEACOM