Philly.com Awards Deacom Top Workplace 2018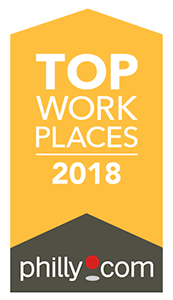 Chesterbrook, Pa, March 22, 2018: Deacom, Inc., the developer of a comprehensive Enterprise Resource Planning (ERP) solution based in the King of Prussia area, is proud to be among those recognized on Philly.com and Philadelphia Media Network's Top Workplaces list this year. The Top Workplaces list is based on the results of employee feedback surveys administered by Energage, an independent research firm that measures employee engagement and satisfaction through an anonymous employee survey.
"It is an honor to be a Top Workplace and what makes it so significant is the fact that this award is based on feedback directly from our employees," said Scott Deakins, COO of Deacom. "As we continue to experience significant growth – doubling the employee size in just three years – it is important that team members always know that their voices are always heard and that they have great opportunities to make a difference. In fact, employees are recognized on a regular basis for their contributions towards improving our business and software. These contributions are often sparked from ideas they crafted on their own and turned into reality."
This year's survey results ranked Deacom above average in categories like "Connection" where employees felt that the company enabled them to work at their full potential and they were genuinely appreciated. Employees also felt that their managers help them to continuously learn and grow more at Deacom than professionals at other Enterprise Software companies.
In addition to the passion that Deacom team members share for solving the complex challenges of customers, here are some attributes of the company's culture and benefits that helped secure this Top Workplace recognition:
Immediate Benefit Eligibility – A full suite of benefits, including health, dental, and vision, are available upon an individual's first day of employment at Deacom.
Catered Lunch on Fridays – Every Friday, Deacom provides free lunch to all employees to drive interdepartmental collaboration.
Friendly Competition – Ping pong, corn hole, ladder golf, and board games are available in Café Deacom to encourage employees to take breaks to recharge throughout the workday.
Deacom Foundation – Deacom provides financial assistance to those employees who have a clear passion for helping others. The goal is to accelerate the work that employees are already doing by contributing funds to their desired organizations.
Performance-Driven Growth – Team members control their own professional destiny. Employees and managers work together to identify SMART goals where one's bonuses, promotions, and growth are determined by their own performance, not tenure.
"Becoming a Top Workplace isn't something organizations can buy," said Doug Claffey, CEO of Energage. "Organizations must meet high standards in the eyes of their employees. Having a good workplace is essential for hiring, retaining, and motivating talent."
Deacom is currently hiring within their sales, process engineering, technical support, development, data, and administration teams. Visit Deacom's Career Page to learn more about these opportunities and what it is like to work at Deacom.
For more information about Deacom, visit deacom.com or call 1-877-4-DEACOM.
About Deacom, Inc.
Deacom, Inc. is the producer of DEACOM ERP, a comprehensive ERP platform with the industry's largest functional foundation. As the artisans of ERP software, Deacom builds functionality that specifically resolves the complex challenges of manufacturers and distributors. With a focus on constantly evolving the software, critical business functionality is developed by Deacom into the core platform. This provides a unique opportunity for customers to increase operational efficiency and decrease the total costs of ERP ownership. To learn more, visit deacom.com, follow on Twitter or call 1-877-4-DEACOM.
Media Contact:
Kelly Peters, PR Manager
Email: press@deacom.com
Phone: 1-877-4-DEACOM