A Comprehensive Solution for Cannabis Processors
Deacom develops a comprehensive ERP solution that provides you with all of the tools necessary to execute your business processes. Whether it's meeting regulatory compliance with automated reporting tools, managing product development with built-in formulation management, or providing full inventory traceability from seed-to-sale – Deacom's got you covered. Our ERP software includes the largest functional foundation that cannabis companies need in this ever growing and heavily-regulated industry. The centralized software allows you to focus on growing the business efficiently and driving profit.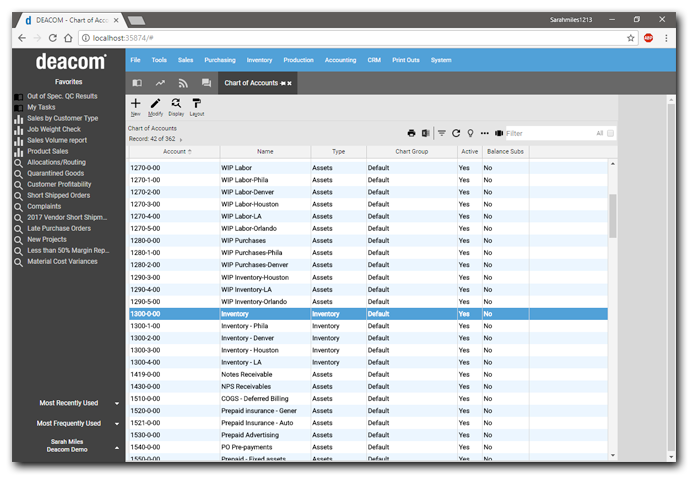 Why Deacom Exists
In this whiteboard session, Jay Deakins, Founder and CEO of Deacom, discusses the approach that DEACOM ERP software takes to address the specific, often complex needs of batch and process manufacturers.



The Largest Functional Foundation
Deacom's single data source provides you with centralized, real-time access to critical business information. This rolls up into our native tools for accounting, purchasing, production scheduling, MRP, inventory management, document generation, quality control, and lot tracking, to name a few. With DEACOM, you can rid your cannabis company of juggling data between multiple modules – which can often lead to data inconsistencies and wasted resources.

Scalability to Parallel Your Future Needs
Deacom operates under the Kaizen philosophy of continuous improvement, applying this to our overall agile development strategy. As your cannabis business evolves, so too will the list of software requirements that are needed to run it. Deacom's ERP model does not rely on customizations or bolt-ons that can impede your ability to scale. In fact, we make all new features, enhancements, and extensibility available to our entire customer base to ensure everyone has the ability to leverage the latest technology.

Leaders in Process Control
We believe process control is at the forefront of any successful business – including cannabis growers, manufacturers, processors, and distributors. Our ERP software goes beyond just keeping tabs on your operations, providing the necessary stop gaps and enforcing essential behavior needed for: production, quality control, inventory management, document generation, sales and accounting, and even distribution.
Built with Compliance in Mind
The cannabis industry is moving fast and DEACOM can help you comply with the evolving state (US) and province (Canada) reporting regulations with its built-in ERP software functions:
Job Management - Report on the amounts of cannabis produced or received
Sales Order Management - Report on the amounts of cannabis sold or received, including number of shipments per customer or location
Inventory Management - Report on the amounts of cannabis held in inventory per period
Formula Management - Report on cannabis being used while conducting research and development activities
Extensive Capabilities - A Single Application
Deacom's ERP software meets the critical business requirements of cannabis processors within these functional areas:
Marketing - Perform customer and market intelligence analysis, manage customer information and track engagement, and measure demand
Sales - Manage, create, and track sales orders, process ecommerce orders, utilize built-in product configuration, and determine product availability
Manufacturing - Manage production operations, report quality control results, track warehouse inventory, and utilize planning and scheduling calendars
Finance - Perform planning and management accounting, including budgeting, forecasting, cost accounting, and revenue accounting
Warehousing – Drive efficiency throughout the warehouse by using barcodes to track inventory movement
Mobile – Stay on top of operations with DEACOM Mobile – no matter if you are traveling to a meeting, in the field, or on vacation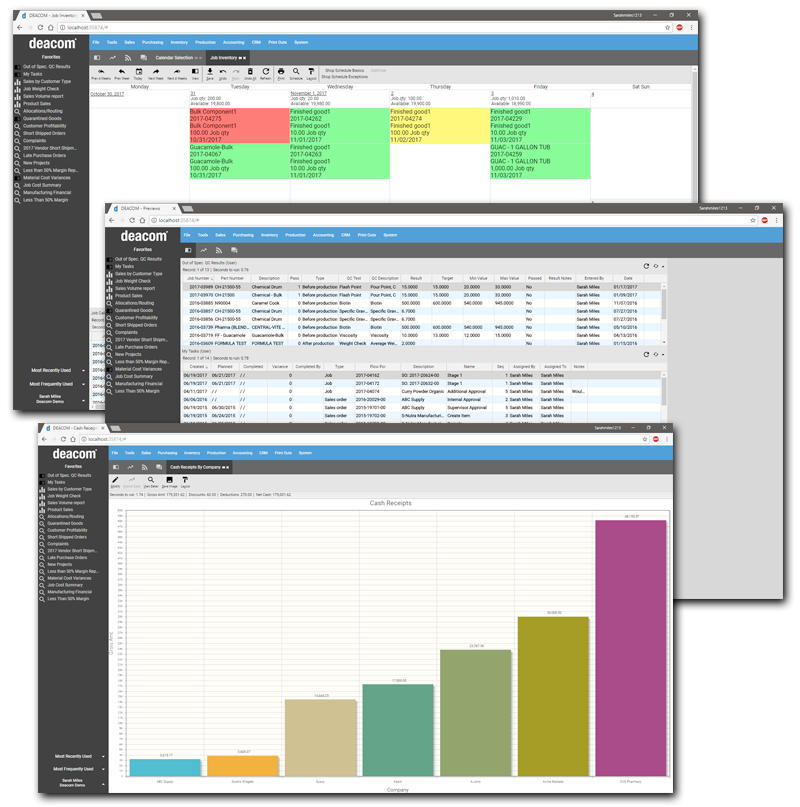 We specialize in serving industries just like yours