What makes the implementation of our enterprise resource planning system different?

Industry's Largest Functional Foundation
Deacom has spent the last 20+ years crafting the most comprehensive business foundation that is built specifically for those in manufacturing and distribution industries. The ERP system's core capabilities allow customers to gain a high level of control over not just their own operations, but their entire supply chain. Keeping critical business areas native to the ERP environment allows for data accuracy and system performance that is unmatched by those with a more limited base functionality. With a team of in-house, industry experts constantly looking for opportunities to advance the platform, DEACOM ERP is well positioned to stay ahead of technical and market trends.

Utilizing best practices with our industry expertise
Deacom focuses exclusively on manufacturers and distributors. It is one of the reasons our customers choose us when they require new business management software. As a result, our experienced teams have deep industry knowledge to help your business take advantage of best practices, while also maintaining your unique business processes that differentiate you from your competitors. We provide continuous guidance throughout the implementation of the ERP system and help you solve any number of business problems along the way.

Providing a guaranteed fixed price
Anyone who has been through an ERP implementation in the past knows the impact that cost uncertainty can have on the project's success. Deacom's unique model and fixed price provide an unmatched level of assurance to our customers going into an implementation. We do not provide cost estimates or ballpark figures for your implementation. Instead, all costs are outlined up front and guaranteed for the implementation. This provides our customers with full visibility into what their total cost of ownership will be and allows them to plan for the growth of their business.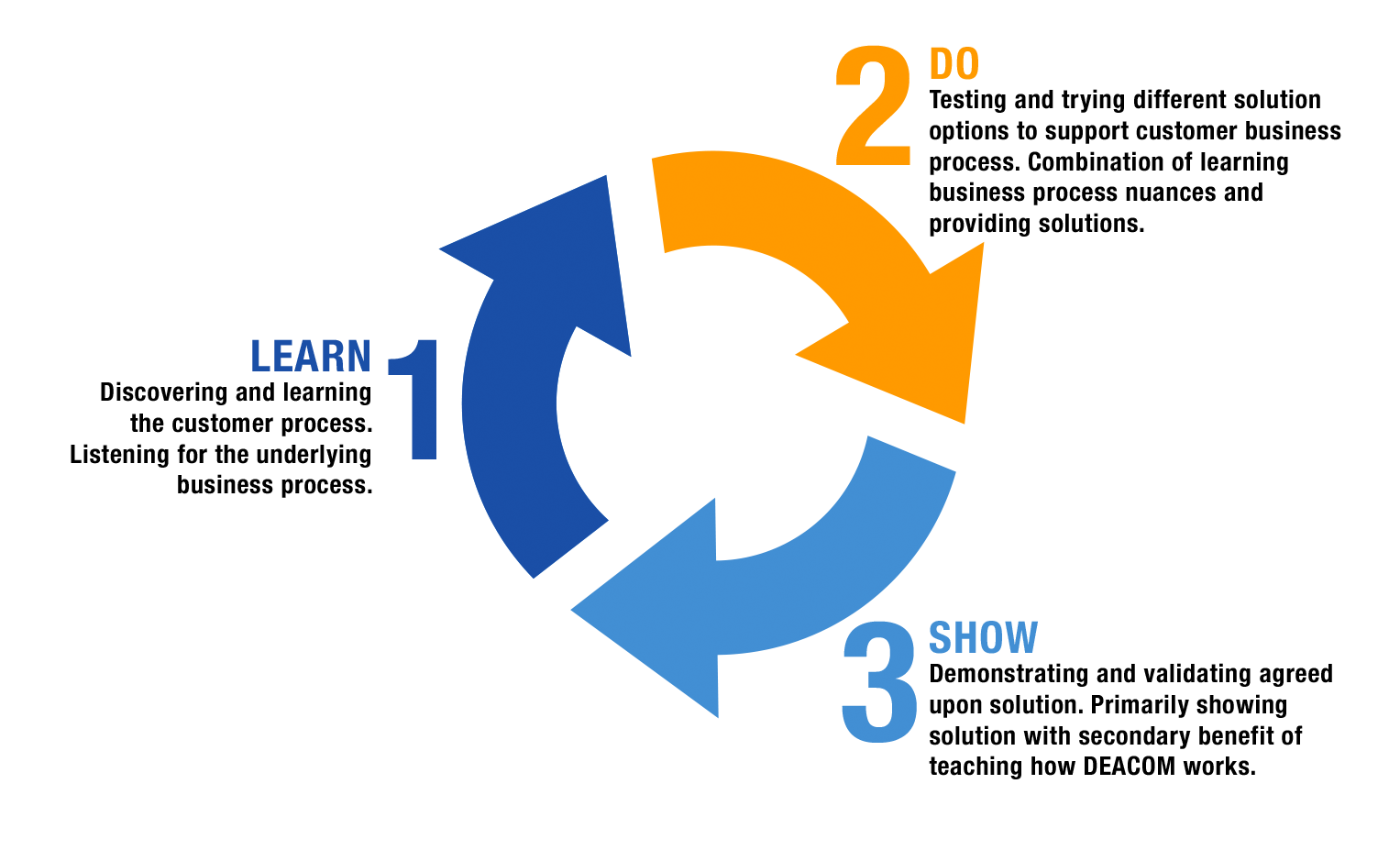 Focused on business processes:
The "Why-driven" approach
Deacom takes a "Why-driven" approach to the ERP implementation process. This means that our focus is on understanding all the different aspects of your business processes first, before ever providing a solution for them in the software. We do this by asking a lot of questions:


What are the problems you have today?
Why do you follow certain procedures?
What are you doing today because your current software makes you do it that way vs. what are you doing because that's important to your business?
What are you doing because you want to do it vs. what are you doing because you have to do it?
These are the kinds of questions you can expect us to ask in order to understand your goals and identify the best methods for achieving them in the software. They become the keys to successfully implementing the ERP system.