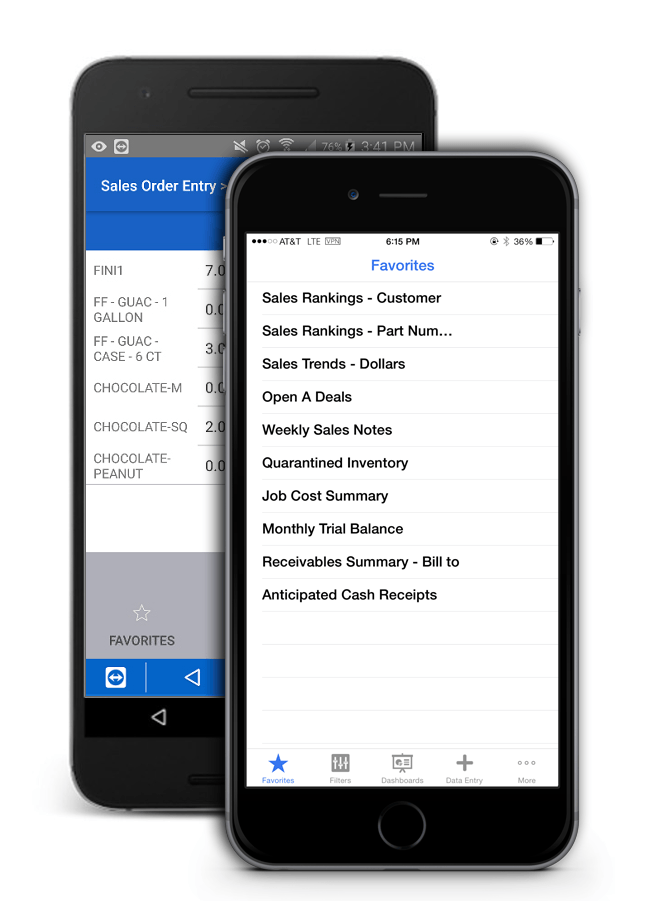 Most mobile ERP solutions are really bolt-ons where the mobile application is built on a separate set of business logic from the main application. Deacom is not.

The business benefits of DEACOM Mobile include:
Generate any system report or dashboard in real-time
Complete a sales order on the road and save it to the database instantly
Utilize CRM capabilities to track your sales activity
Share security between the software and mobile app
Game changing
DEACOM Mobile is a great illustration of DEACOM's technical advantage. The single-system allows DEACOM to evolve faster and drive data integrity because code does not need to be duplicated in multiple systems. This approach also allows you to run all of the management reports and dashboards that are set up in the main application on your mobile phone.
Oh the places you may ERP
Deacom has been hard at work developing a mobile app that allows you to view your business from your hotel room, your kid's soccer game, or while sitting on the beach in the Caribbean. The fruits of our labor are available through DEACOM Mobile – a mobile application for iOS and Android products that is changing the mobile ERP game.
DEACOM Mobile provides your remote workforce with the following capabilities:
Reporting
Use the intuitive configuration tool to create and set up reports that are subsequently available across all platforms
Access all of the management reports and pre-filters from the main application through DEACOM Mobile
Review custom formatted reports that are optimized for your organization's team
Drill down to the source transaction from any summary level report
Dashboards
Access dashboards and reports that have been created in the main application
Drill down into any dashboard report to view details on the data presented
View all data in in real-time.
Sales Order Entry
Enter an order anytime, anywhere with DEACOM Mobile
Configure the mobile order form layout to streamline order entry
Ensure customers get the same price regardless of where the order is entered by having access to pricing hierarchy established in the main ERP
Capitalize on the power of order entries available in real-time, enabling tools like MRP, the sales calendar, and production scheduling
CRM
Provide sales reps access to the same CRM capabilities that are available through the main DEACOM ERP system
Add information into the CRM, such as notes on a critical meeting, and have them available for the entire team in real-time
Stay up to date on opportunities to win business while on the road through CRM workflow and activities
Access your entire list of contacts from the palm of your hand
Security
Rely on the same user security parameters as the main ERP software.
Whitelist specific devices, ensuring they can be disabled by a system administrator if necessary
Installation
Obtaining an Apple Enterprise license for your organization is all that is required before deploying the app
Install the app by launching a web URL after an an Apple Enterprise license is obtained