Lot Tracking with Deacom ERP Software
Process Manufacturing ERP Software with Built-in Process Control
In our view, true strict lot control means 100 percent inventory accuracy with perfect record keeping and the ability to instantly report on any aspect of the inventory history. Enter Deacom's ERP software and its lot tracking capabilities.
Deacom's built-in process controls helps businesses strive for a perfect record when it comes to complete control over their lot tracking.
Lot Traceability
Lot traceability is very important for process manufacturers, especially those following the guidelines of the FDA or Safe Quality Food Institute.

DEACOM ERP software provides the ability to see every raw material that went into a particular job as well as details for reports. This includes full contact information on customers who received those lots – information that is required by the FDA to increase the speed of recall management.

Deacom's ERP system provides the ability to track lots up and down the entire formulation to shipment process. It does this in a single-system built just for batch and process based manufacturers.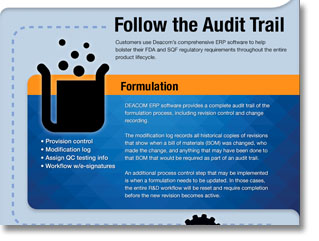 Lot traceability in DEACOM helps to bolster regulatory requirements. Download this infographic showing the complete audit trail.
Benefits of lot tracking in a single-system ERP
Deacom's Lot tracking controls prevent issues with transactions being made out of sequence
Lot control and traceability ensures material that is set to be issued to a job can be entered as it happens.
Built-in quality control checks prevent accidental shipments of lots
FEFO inventory selection ensures the lot tracking system will always identify the first product that is going to expire that meets shelf life requirements of customers.
Lot numbers are automatically added to GS1-128 barcodes for serialized inventory
Have a question about Deacom's lot tracking capabilities? Call us at 1-877-4-DEACOM. Or better yet...