Electronic Data Interchange (EDI)




Deacom's ERP software provides support for inbound and outbound EDI transactions
What is EDI?
EDI refers to a process that involves using electronic communications to complete transactions between two organizations, called "Trading Partners". For many manufacturers and distributors EDI is no longer a choice – it has become a requirement for doing business with their customers. By moving to this method of conducting business, many benefits can be realized including lower operational costs, higher efficiency, better supply chain visibility, and improved accuracy.


EDI Standards
In the United States, organizations traditionally follow ASI standards (ANSI ASC X12_) for EDI document formats. Outside the United States, the international standard is referred to as Electronic Data Interchange For Administration, Commerce and Transport (EDIFACT). DEACOM ERP provides a configurable setup to allow companies to tailor their EDI setup to support the two major standards.

Although there are global standards, the setup in DEACOM still needs to be configured for individual companies based on their business processing rules. Often times, trading partners or their Value Added Networks (VANs) only partially conform to the standards, use custom formats, or conform to the standards but have special pieces of information that must be communicated. The flexibility of the configurable setup in DEACOM facilitates every file format the company has seen to date.
VANs
A Value Added Network (VAN) is the intermediary between trading partners that facilitates the communication of the data. VANs help trading partners streamline the development of their EDI files by providing addition translations from trading partners into formats that can be read by their internal systems. Some trading partners do allow files to be sent directly to them, but most require a VAN to facilitate the transaction for security and configuration purposes.
EDI Transactions with Deacom's ERP Software
DEACOM provides a highly flexible and configurable set of tools allowing companies to maximize the value of implementing EDI transactions. A list of some of the configurations are listed below along with their common identifier and if they are pulling data into (inbound) or out (outbound) of the ERP system:


| | | |
| --- | --- | --- |
| Transaction | Common ID | Inbound / Outbound |
| Invoice | 810 | Outbound |
| Purchase Order | 850 | Inbound |
| Purchase Order Acknowledgement | 855 | Outbound |
| Advanced Shipment Notice | 856 | Outbound |
| Warehouse Shipping Advice | 945 | Inbound |
| Functional Acknowledgment | 997 | Inbound / Outbound |
Inbound transactions are mapped via the flexible EDI designer within the software. Outbound transactions are configured via triggers in DEACOM. The nature of the trigger functionality allows for any outbound EDI functionality to be supported.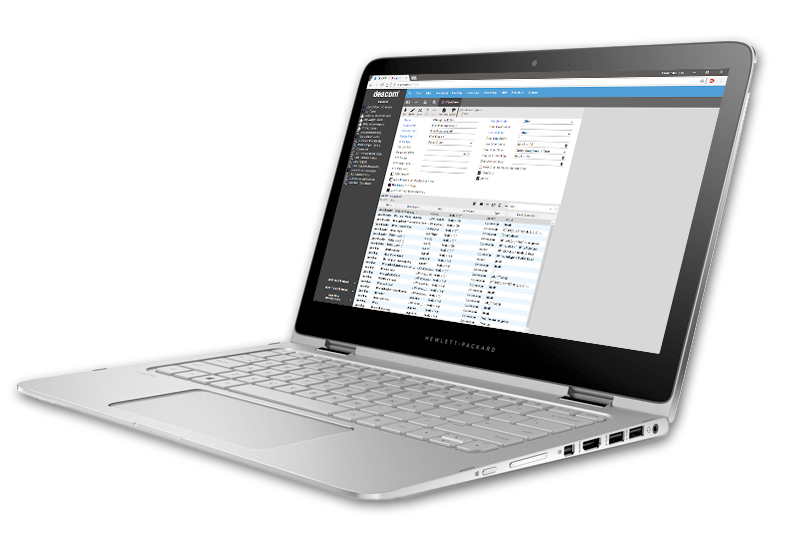 Document Formatting Structures
Data files can be formatted in a variety of ways based on the industry, trading partner and VAN. DEACOM supports a number of different formatting structures including:
Microsoft Excel Spreadsheet
XML
CSV
Fixed Length
Field Delimited (comma, pipe, tab, space, other)
Communication Methods
EDI transactions can be completed via a number of different communication protocols or methods. DEACOM supports the following protocols for communication via a VAN or directly to the trading partner:
FTP (File Transfer Protocol)
SFTP (Secure File Transfer Protocol)
Selecting a VAN
DEACOM ERP software works with any VAN. However, we do have a relationship in place with SPS Commerce. The Deacom team has configured many instances with SPS Commerce and companies can take advantage of this close integration to streamline their mapping processes.
Implementing EDI in DEACOM
Implementing EDI in DEACOM does not require a developer to complete the mappings but does require a working knowledge of the configuration tool. The process is typically done in two steps:


Configuring the mapping. The configuration of an EDI transaction is based on the data format provided by a trading partner or VAN. Typically the trading partner or VAN will provide a sample file to work with during the initial configuration.
Testing the transaction. The testing step consists of sending transactions between the trading partners' testing environments. Once the communication is confirmed, the setup can be pushed to the production environment to be used in live.
Learning EDI Mapping in DEACOM
Training on the mapping process is available in the following forms with DEACOM:
Implementation Training: Implementation Training: During the implementation the Deacom team will teach key team members how to configure and test EDI transactions.
Help Documentation: There is plenty of documentation and mapping examples available via the DEACOM help system.
Consulting: The Deacom team is available to complete the transactions or assist a customer team with the setup as necessary. Explore more of Deacom's ERP software